About Capt. Mark "Sharky" Alexander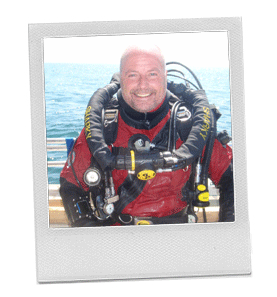 Captain Mark "Sharky" Alexander started diving nearly 25 years ago as a Public Safety Diver for the Springfield/Sangamon County ESDA rescue squad in Illinois. Sharky is an active recreational, technical, and closed circuit rebreather instructor and expedition leader, arranging and coordinating exploration expeditions around the world.
Sharky holds the following active credentials:
PADI Master Instructor: Open Water, Advanced, Specialties – Nitrox, Buoyancy, Night, Wreck, Deep, Navigation, Medic First Aid

TDI Instructor: Inspiration Classic/Vision CCR Instructor and Advanced Nitrox / Decompression Procedures

IANTD CCR Normoxic Trimix Instructor

EFR Primary Care (CPR) & Secondary Care (First Aid) Instructor

DAN Oxygen First Aid Instructor

Advanced Diver Medical Technician

Hyperbaric Chamber Technician

USCG 100 Ton Master Captain License with Towing Endorsement
When Sharky is not diving he works full time as a paramedic, and as an instructor for EMT and Paramedic training courses. He instructs in areas of Advanced Cardiac Life Support, Pediatric Advanced Life Support, Advanced Pre-Hospital Trauma Life Support and Advanced Hazmat Support. He is on staff with Cardinal Glennon Children's Hospital in St. Louis as a Pediatrics Advanced Life Support Instructor.
In January 2018, Sharky and Matt Savatski became the new owners of the Ultimate Getaway / Global Explorer Liveaboard.  They run 3-4 day and 4-5 day dive trips to the Dry Tortugas and Middle Grounds.
In September 2010, Sharky retired from the Illinois Air National Guard, with 20 years of service as an F-16 Aircraft Weapons Specialist. He served four tours in the Middle East, including in Kuwait, Saudi Arabia, Qatar and Balad, Iraq.
Sharky's Underwater Expeditions was founded in 2007, and focuses on advanced dive travel, deep wreck exploration, specialized technical training and closed circuit rebreather training. Sharky specializes in closed circuit rebreather training and mixed gas training, as well as functioning as a dive medical officer, and offering medical seminars on remote medical treatment and logistics.